Ukraine calls for 'immediate ceasefire' as talks with Russia open******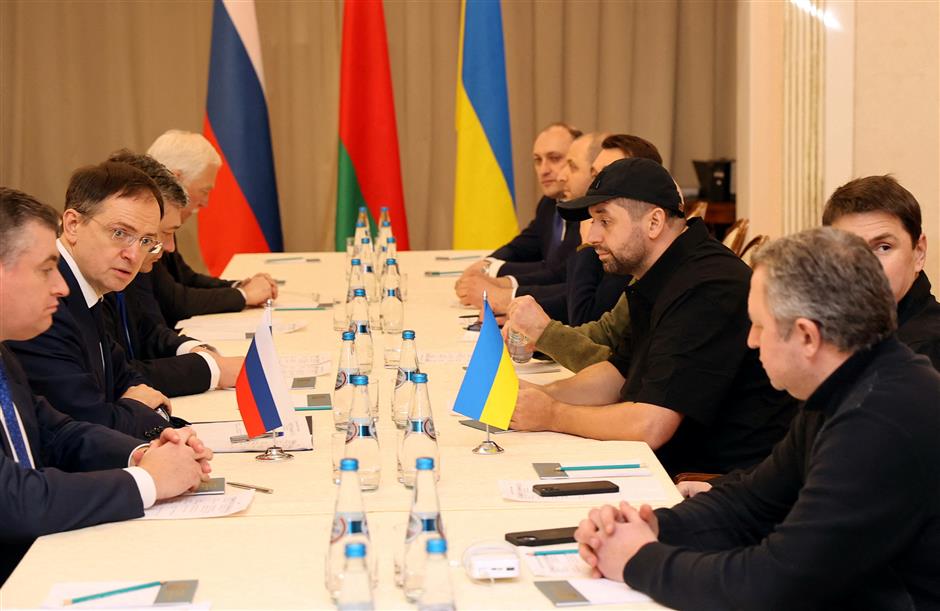 Reuters
Russian and Ukrainian officials take part in the talks in Gomel, Belarus, on Monday.
Russia and Ukraine met yesterday for their first talks since the outbreak of war last week, with Kiev demanding an "immediate ceasefire" as the number of refugees fleeing the country hit more than 500,000.
As the delegations arrived for talks on the border between Belarus and Ukraine on day five of Moscow's attack, the Ukrainian presidency demanded the ceasefire "and the withdrawal of troops."
"I do not really believe in the outcome of this meeting, but let them try," Ukrainian President Volodymyr Zelensky has said.
Severe financial sanctions imposed by the West on Moscow showed their impact on financial markets yesterday morning, with the Russian rouble collapsing to a record low and the Russian central bank more than doubling interest rates to 20 percent.
The sanctions targeting the Russian financial sector are intended to change the calculus of Kremlin leader Vladimir Putin, but on the ground the roughly 100,000 Russian troops thought to be inside Ukraine continued their move from the north, east and south.
Western defense officials and the Kiev government say battling Ukrainian troops have kept the country's major cities out of Russian hands despite incursions in the capital Kiev and the second largest city, Kharkiv, over the weekend.
"The Russian occupiers have reduced the pace of the offensive," the general staff of the Ukrainian armed forces said yesterday, again claiming that Moscow had suffered "heavy losses."
The small southern city of Berdyansk has been occupied by Russian soldiers, however, Ukrainian officials said.
In the capital yesterday, after a relatively calm evening, people rushed out to buy food after the lifting of a strict blanket curfew imposed on Saturday, with local forces given shoot-on-sight orders over the weekend.
Amid reports of further Russian troop movements towards Kiev, Moscow said it had now "gained air superiority over the entire territory of Ukraine," while accusing Ukrainian troops of using civilians as human shields.
The UN's refugee agency UNHCR said over half a million people have fled Ukraine since the attack on Thursday.
"More than 500,000 refugees have now fled from Ukraine to neighboring countries," United Nations refugee chief Filippo Grandi said in a tweet.
The grim figure came as talks got under way at the Belarus-Ukraine border yesterday that included Ukraine's defense minister and officials from the two countries.
Kiev had been initially reluctant to send a delegation to Belarus, given the country's role in facilitating Russia's attack on Ukraine by hosting troops and weaponry used in the invasion.
"We definitely have an interest in reaching some agreements as soon as possible," Vladimir Medinsky, an aide to Putin who has traveled to Belarus for the talks, said in televised remarks.
Zelensky meanwhile issued another video address, wearing his now trademark green khaki sweatshirt, calling on the European Union to agree to "the immediate accession of Ukraine via a new special procedure."
The head of the European Commission, Ursula von der Leyen, gave her support on Sunday in an interview with the Euronews channel, but without specifying a timeframe. "They are one of us and we want them in," she said.
The EU said it would provide 450 million euros (US$500 million) for Ukraine to buy arms, including Russian-made fighter jets that Ukrainian pilots could operate.
It also announced restrictions on Kremlin-run media outlets RT and Sputnik.
Elsewhere, Russia said yesterday it was banning flights by airlines from 36 countries, including Britain and Germany, after many have barred Russian planes.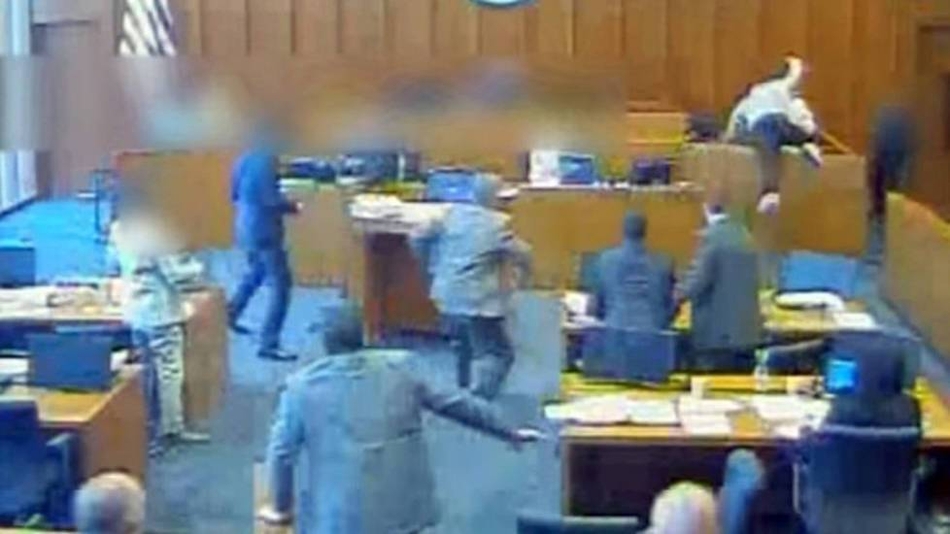 宝鸡市男子吃火锅被店方收取16元餐具费 此项收费有效吗?******
  10月29日,宝鸡市群众章老先生在太白县川川火锅串串店就餐,累计耗费了240元,结帐时没仔细观看,回家了后发觉被收取了8套餐具费16元。章老先生觉得,在店内就餐不可收取餐具费。
  消费者:吃完个火锅店 收了16元餐具费。
  "我是10月29日到超白县里的川川火锅串串店和一些好朋友吃的火锅串串,消費了240元,回到家看单据时看到有一项收费为'消毒杀菌餐具'收费16元。我认为收取餐具费不科学,这不符消费者利益维护要求。"群众章老先生对华商报-二三里资讯说。
  二三里资讯新闻记者查找发觉,2017年9月1日实施的《陕西消费者利益维护规章》第三十六条要求:餐饮经营经营人理应无条件为消费者给予合乎健康安全标准的餐具,不可设置低消,收取或是变向收取开瓶费等不科学花费。
  消费者投诉核心:领域默认设置国际惯例。
  新闻记者接着联络到太白县销售市场监督管理局"12315"消费者投诉核心,工作员表明,有关餐馆餐具收费举报的实例较为少。
  工作员告知新闻记者,现阶段,餐饮业消費时收取2元餐具费已变成一种默认设置国际惯例,这种收费餐具是由专业的消毒杀菌组织消毒杀菌派送给餐馆。自然,消费者能够挑选店家自己在消毒碗柜内的餐具,这类不收费。商家在消费者就餐时要向客户详细介绍餐具收费状况。因涉及到额度并不大,消费者可与商家商议解决。
  刑事辩护律师:消毒杀菌餐具收费需征求消费者允许。
  很多年作为法律法规工作中的陈律师表明,依据《餐饮企业经营规范》《食品安全法》《陕西消费者利益维护规章》有关要求,给予健康安全的完全免费餐具是饭店经营人的法定义务,餐馆企业不可以将消毒杀菌餐具花费转嫁到消费者的身上。
  陈律师觉得,在餐馆场地就餐时,消费者有挑选完全免费餐具的支配权,店家有责任完全免费为消费者给予符合国家规范的餐具。假如向消费者收取一次性消毒杀菌餐具花费,须在点单前征求消费者允许。若未征求消费者允许强制性消费者应用付钱消毒杀菌餐具并收取餐具费的,消费者可保存有关直接证据向12315开展举报或检举。华商报新闻记者 王培民。
来源于:华商网-华商报。
编写:杨蓓蕾。
【网盟彩票_首页_官网|登录平台【购彩】👉👉十年信誉大平台,点击进入👉👉 打造国内最专业最具信赖的彩票平台,为您提供网盟彩票_首页_官网|登录平台【购彩】用户登录全网最精准计划软件,APP下载登陆,强大的竞彩网上推荐!!】
Neymar to miss Argentina******
BUENOS AIRES, Nov. 15 (Xinhua) -- Brazil forward Neymar will miss his team's 2022 FIFA World Cup qualifier against Argentina because of a leg muscle injury, the Brazilian Football Confederation (CBF) said on Monday.。
The 29-year-old was ruled out of Tuesday's clash in the central-western Argentine city of San Juan after feeling pain in the adductor area of his left thigh.。
"Neymar Jr said he felt insecure about the situation and, as there is not enough time to carry out complementary exams, the technical commission decided to rest the player who will not travel with the team," a CBF statement read.。
Meanwhile, Argentina manager Lionel Scaloni confirmed that Lionel Messi would play, playing down concerns about the 34-year-old's fitness.。
The Paris Saint-Germain forward made a 14-minute cameo appearance off the bench in Argentina's 1-0 win over Uruguay on Friday, having missed Paris Saint-Germain's last two games because of knee and hamstring problems.。
"He was physically fit the other day and in the end we decided that the best thing was for him to play a few minutes so that he could get a feel for it and he is confirmed to play tomorrow," Scaloni told reporters.。
Brazil head the 10-team South American zone standings with 34 points from 12 matches, six points ahead of second-placed Argentina.。
The Selecao secured their place at next year's World Cup in Qatar with a 1-0 win over Colombia in Sao Paulo on Thursday.。
The top four teams in the group will automatically qualify for football's showpiece tournament while the fifth-ranked side while advance to an inter-continental playoff. Enditem。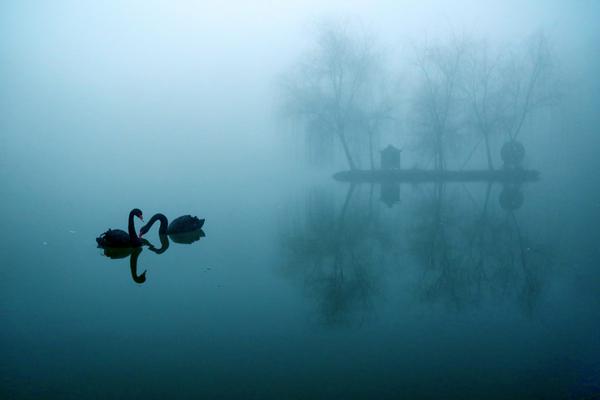 CBA Roundup: Liaoning deals Zhejiang 1st loss, Ningbo remains winless******
ZHUJI, China, Oct. 31 (Xinhua) -- Guo Ailun shone with 35 points and the Liaoning Flying Leopards held off the Zhejiang Lions 112-100, inflicting the latter their first loss going into the 2021-22 Chinese Basketball Association (CBA) season here on Sunday.。
After Zhejiang's loss, no side manages an intact winning record after seven rounds of action, as the defending champions, Guangdong Southern Tigers fell to the Zhejiang Golden Bulls 124-101 on Saturday.。
The newcomers Ningbo Rockets remain in search of their first victory of the season after losing to the Shanxi Loongs 110-85.。
Guo shot 14 of 26 from the floor, including 3 of 5 from deep, and dished out 12 assists. Veteran center Han Dejun also posted a double-double of 25 points and 14 boards.。
Sun Minghui was involved in all of Zhejiang's 19 points going into the match with 10 points and four assists, and Zhejiang led 23-19 as the first quarter ran out.。
Han scored Liaoning's seven points early in the second period. The trio of Zhao Yanhao, Sun and Hu Jinqiu pushed Zhejiang's lead to 13 points, but the undeterred Liaoning side responded with a 22-2 scoring spree over the next four minutes to take control. Han and Guo kept attacking the basket, and Liaoning outscored Zhejiang 38-23 in the 12-minute frame to go up 57-46 at halftime.。
Guo and Han continued to contribute on the scoreboard after the break, and this time another veteran Li Xiaoxu also stepped up to convert consecutive baskets. But with Han on the bench, Zhejiang mounted their comeback and whittled the deficit to 84-78 heading into the final period.。
Both Sun and Zhejiang head coach Wang Bo were called technical fouls for arguing for a defensive foul from Guo in one possession. Guo held firm to convert ensuing two free throws, and Liaoning pulled away to end Zhejiang's six-game winning streak.。
Liaoning head coach Yang Ming thought his players executed what had been laid out throughout the match, and the process reflected the team's defense.。
"The game has been in our hands since the second quarter," he said.。
Sun led Zhejiang scorers with 32 points and 11 assists while conceding 10 turnovers. Zhao and Hu pitched in 19 and 15 points respectively.。
"We played one and a half quarters of good basketball," commented Wang Bo. "But we met some trouble in responding to Liaoning's changes in their defensive tactics."
The game between Shanxi and Ningbo witnessed the absence of key post players from both sides, as Shanxi rested Ge Zhaobao and Ningbo was depleted of their leading scorer Zhang Biao.。
Shanxi still showed their edge in the paint, building a 33-23 margin after the first quarter and extending it to 63-44 at the intermission.。
Shanxi maintained their defensive intensity in the second half en route to a lop-sided win.。
Power forward Yan Pengfei notched 21 points on 8-for-10 shooting for Shanxi. Xing Zhiqiang helped with 17. On the Ningbo side, Ma Zhenxiang scored 21 points to lead the way.。
The Guangzhou Loong Lions edged the Jilin Northeast Tigers 95-94 in a game that ended in a dramatic way.。
Leading 94-93 with 8.5 seconds remaining, Jilin was awarded two free throws. Guangzhou head coach Guo Shiqiang thought that Jilin's Dai Huaibo should have been ruled traveling violation before the foul took place, and voiced his disagreement toward refereeing.。
The game was halted for over 10 minutes before resuming. Jilin's Cui Jinming missed two free throws, and Chen Yingjun made a driving layup with 1.8 seconds to play, helping Guangzhou escape with a win.。
Guangzhou's sophomore Zhu Mingzhen, who fouled out and gave Jilin free throws before the incident occurred, finished with a career-high 33 points.。
"Players kept their nerves on the court, and Chen executed well in the last possession," Guo said in relief.。
After losing the previous encounter between the two sides, the Shanghai Sharks exacted some revenge on the Beijing Ducks with a 105-86 victory.。
Jamaal Franklin paced Shanghai with 33 points, eight rebounds and nine assists. Wang Zhelin chipped in with 25 points and 16 rebounds.。
Beijing guard Jeremy Lin had to wait for his season debut despite having arrived at the competition site. Fan Ziming contributed a team-high 19 points.。
Also on Sunday, Askia Booker, Shen Zijie and He Xining each scored 18 points as the Shenzhen Aviators overpowered the Sichuan Blue Whales 126-107, and five players made double figures in the Qingdao Eagles' 91-86 win over the Jiangsu Dragons. Enditem。
全新大众速腾到店,外观气场足,内饰上档次
1.12岁少年命丧北京!小区漏电已久为何无人维修?
2.烟台机场新开烟台-仁川货班 恢复烟台-米兰货运
3.90后女孩开航校,投资五千万两年回本
4.彩云之南:奏响农文旅融合"协奏曲"